Chapter 7 – Gumball
"While the UK is on lockdown from Coronavirus measures, I thought I would take a look back through the history of our company. I hope all of our clients, staff, friends and families are well and stay safe during these difficult times"

Nick Roach – Director
Gumball 3000 is undoubtably the biggest and best rally in the world. The cars, the history and the way they can literally shut down cities makes it the dream ticket in any supercar enthusiast's bucket list.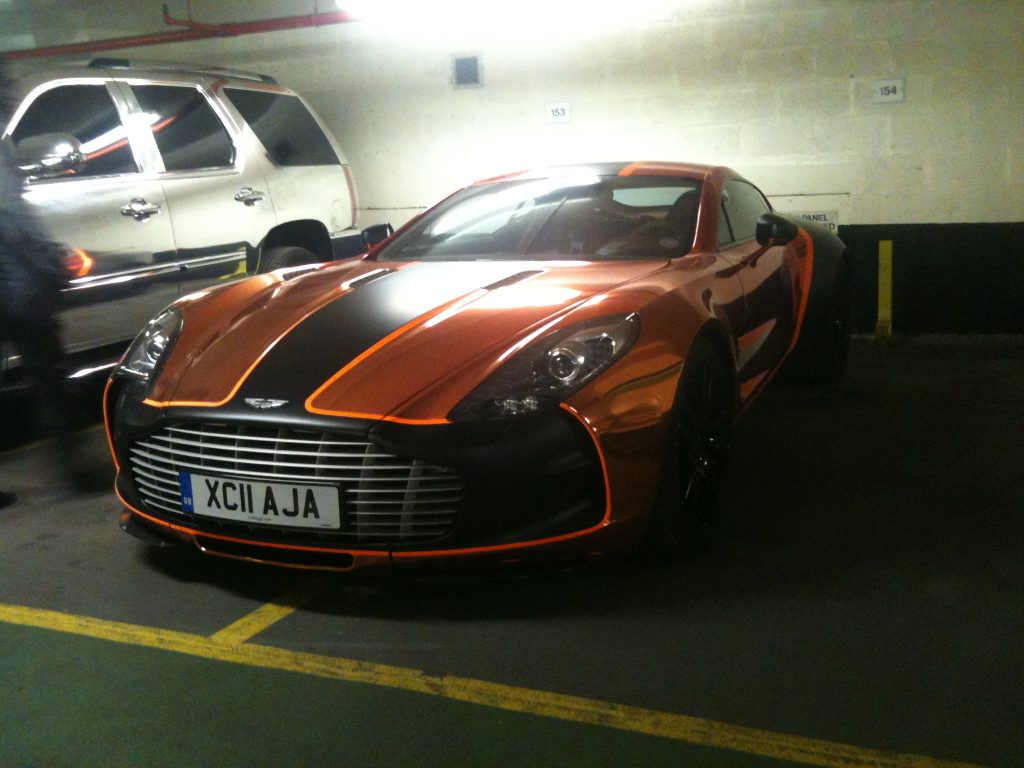 The call from Gumball HQ inviting us to discuss assisting them in shipping vehicles to and from the rally came just as we were preparing the move to our new larger premises.
We prepared some ideas of costs from the most obvious locations and took the trip into London.
As soon as you step foot inside the offices of Gumball 3000 you realise the passion that the founder, Maximillion Cooper, and all of the members of the team have not just for the rally, but everything that revolves and spins off from the rally itself.
Gumball 3000 was started in 1999 and now is an iconic brand which has led to succesful clothing lines, books and even the movie following the annual rally. The following on social media is huge with hundreds of thousands of followers.
In the office, pieces of Gumball 3000 history were dotted around, some of Maximillion's previous cars were also garaged here. It was quite inspiring to see how an office can be so much more than just a place to work, but somewhere to show off the brand and to be more than just a white walled box.
Having seen Maximillion in the media, and seen the most incredible things they get up to on Gumball, we expected it to be quite nerve-wracking actually meeting them in person. We couldn't have been more wrong, everyone was really down to earth and laid back.
At this point we had been shipping high-end cars a few years and knew the worries and requirements that supercar owners have in regards to their pride and joy. After a discussion with the management team about our history and experiences, we got back in the car to head back to Milton Keynes, a proper 'back to reality' moment.
We never really discussed prices with the team at Gumball 3000, it was more of a service we would be offering the participants directly, all Gumball 3000 wanted to know was if we would represent their brand effectively and get the cars safely to the start grid on time, and back again to the owners residences following the rally.
The 2011 rally was to start in London, head through Europe and end up in Istanbul
Getting cars to London shouldn't be a problem and we didn't see any issues getting cars back to London, and then repatriated following the rally.
Well our confidence must have paid off as we received the call to say we would be the shipper for the rally. This was epic.
Planning begun – now we were pretty happy with getting cars to London from most places across Europe and further afield by road / air / sea, but coming back from Istanbul was looking to be a tricky one, we decided we needed to bring in a third party who had experience of working on large scale rallies.
We had done some work already with CARS Europe and knew they had an amazing fleet of trucks and the experience of managing rallies across the world. We gave them a call and they agreed to work with us on moving the vehicles.
The Gumballers started contacting us directly for rates and information, which is when we started to get a feel for the truly incredible array of vehicles we would be handling and the diversity of the Gumball participants from sports people to hugely successful entrepreneurs.
More on the cars; we were talking about Aston Martin One-77's, Bugatti Veyrons, Ferraris, Lamborghinis and more. Basically every dream supercar you could think of, we would be working with.
We started to take deposits and make the appropriate bookings. Getting cars into the UK on time and customs cleared properly for the rally was key, and with a few days to go to the rally start, all was on track.
The cars started to arrive and we had them all delivered to the hotel in London ready for the start grid the next day in Covent Garden, this was the first time we got to see these fantastic machines in the flesh, and to meet our clients who we had moved them here for.
Trying to work in the hotel reception while the likes of The Hoff are walking around you made for quite a surreal day in the office.
That evening we had the official pre-party at the London Playboy Club, that was an experience in itself with celebrities dotted around and plenty of expensive drinks on offer.
The next morning was the big day, the whole of London seemed to be shut down for the rally, the noise and amount of people that flocked to Covent Garden was incredible.
It all seemed to happen so quickly and straight after we had to get back to the office to start putting the wheels in motion for getting around fifty supercars out of Turkey.
Watching the supercars crossing 3,000 miles was like a giant countdown for us to get everything together, catch a flight and meet the CARS Europe team ready to load up cars for the return journey.
We checked into our hotel and started to plan where we would be based in the hotel in order to catch each of the Gumballers we were assisting when they arrived following the final stage of their trip.
The tricky thing with getting cars out of Turkey is that each driver will have their passport stamped showing they have 'imported' a vehicle into the country. They must then receive another stamp to say the car is OK to be exported again.
Due to the huge rally that was entering Istanbul, Turkish customs said they would provide us with an agent at the hotel to make this a much easier process, the Gumballers could arrive at the hotel, get their passport stamped and then enjoy themselves.
Unfortunately this was our first experience of how doing business in Turkey sometimes doesn't go quite as smoothly as you may think. On confirming all of this with customs officers, we were told the day before the Gumball arrival, that this would now not be possible, and each Gumballer would have to present their vehicle at the customs offices to have passports stamped.
We needed a new plan very quickly, and decided that we would set up a desk at the customs offices to greet Gumballers and assist with ensuring passports were stamped ready for us to load the vehicles. We could then park up the cars in the car park there with the lorries ready to load.
Time to relax, have some dinner and get some sleep ready for what was to come in the morning
What was to come was the most amazing display of cars that I have ever seen, something about a supercar that has just done 3,000 miles at speed, covered in fly splats makes it even more of an impressive machine to look at.
All the cars were parked up in Taksim Square, and we organised a local taxi driver to lead our clients across Istanbul to the customs office.
I made it very clear to the chap that he just had to drive slowly, ensure the procession behind was keeping up OK and then to come back in order to repeat the process with some Gumballers who were arriving later.
Sadly, this plan went slightly wrong when the taxi driver decided instead to accelerate faster than many of the supercars could probably achieve off into the distance. Perhaps that seemed an easier way to earn his freshly handed fifty Euros, who knows, but luckily the Gumballers were now well used to navigating across a city and all managed to get their passports stamped and ready for loading.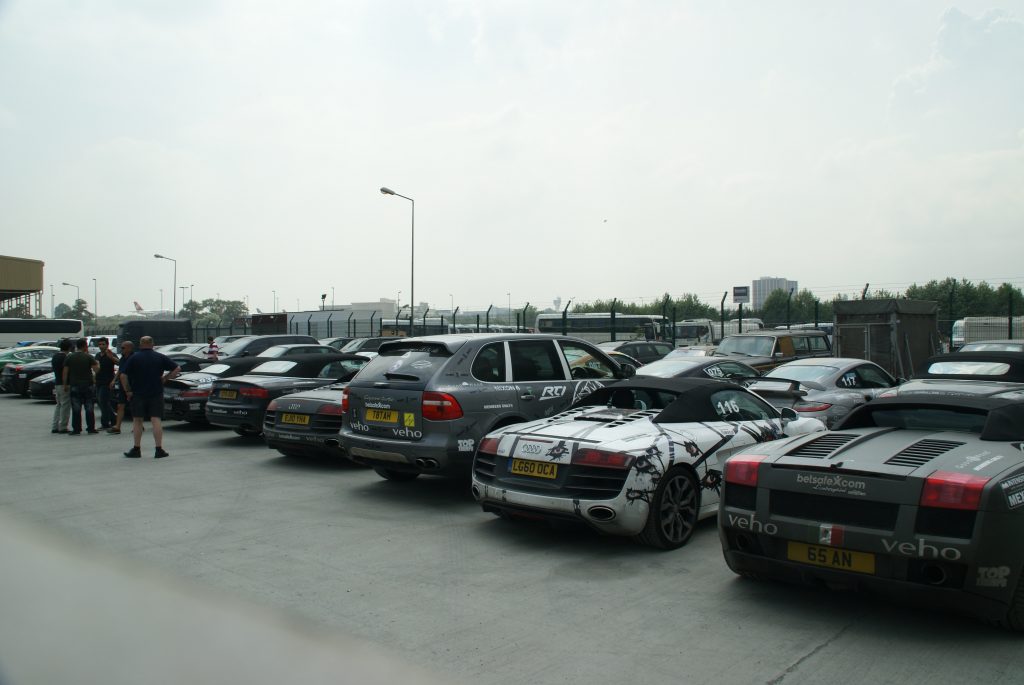 The cars were all parked up next to the trucks and we waited for customs to give the green light to depart. We waited, and waited and waited, a good few days in fact at a huge cost to ourselves for them to finally say we could depart.
Cars all returned safely, loaded back on various flights and containers back across the world – what an incredible experience.
Everyone was happy and we worked as official shippers again the following year from New York to Los Angeles before it was taken more in-house by them.
It was time to re-focus on ShipMyCar and to expand again, it was time to move into even bigger premises.
Carry on reading – Chapter 8 – Expanding Fast