"While the UK is on lockdown from Coronavirus measures, I thought I would take a look back through the history of our company. I hope all of our clients, staff, friends and families are well and stay safe during these difficult times"

Nick Roach – Company Director
Roush and Cervinis Dealers
So, we had been on primetime television, the phone will be off the hook, right?
Well sadly as Top Gear is on the BBC, you are not allowed any marketing therefore our plans to cover the car in ImportMyVehicle.com stickers just weren't feasible. Sure, through a bit of digging it was possible to find who supplied the Stage 3 Roush for filming, but from a direct marketing perspective it didn't help as much as we had hoped.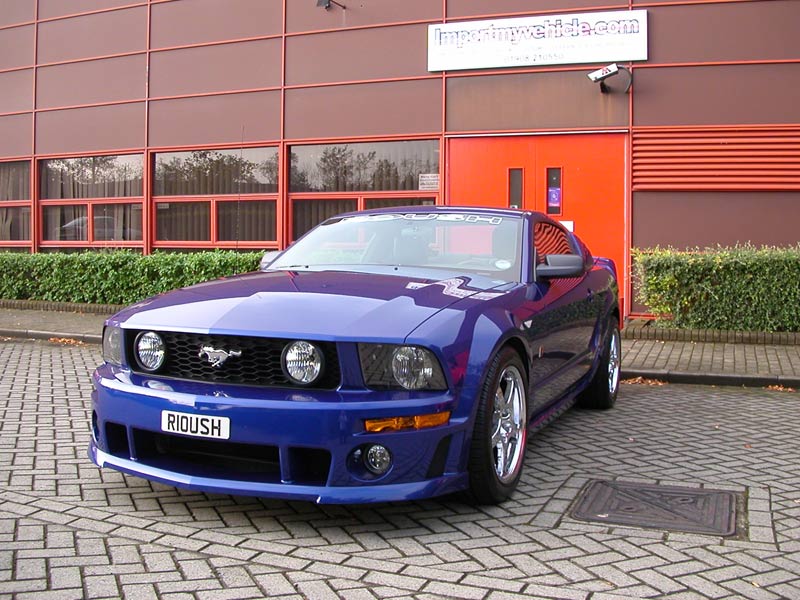 As fate would have it Roush was, at the time, consolidating their activites and was operating from a facility in Essex. This meant we could have Roush vehicles built in the UK (at the time we had no workshop to speak of).
We focused our efforts on raising awareness of our ability to organise the whole process from sourcing a standard Mustang in the USA, shipping it and upgrading it with specific Roush options.
This was popular, very popular, and Roush gave us usage of their demo Stage 3 to help sell even more. We hit all the shows again, from the smaller Owner Clubs to the bigger venues, this time with much bigger stands and a selection of Roush vehicles, including the loan of this awesome Ford GT.
We were putting superchargers, suspension and bigger brakes on anything that moved. The Roush Performance products were and still are the best around in our opinion, so it was very easy to pursuade people to use our services.
Through our growing experience of modifying and registering imported cars in the UK, we started to get interest from people looking to just ship a car they have purchased themselves.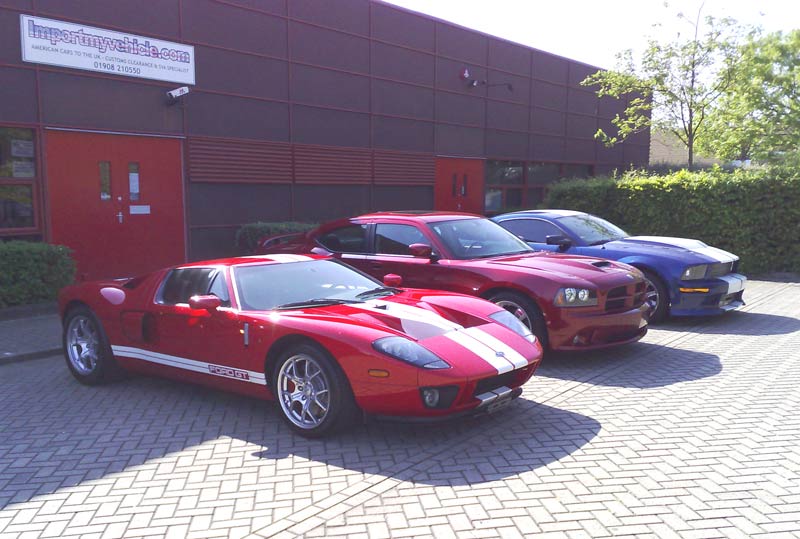 This was quite interesting, we could essentially do the same as we currently were doing but without the risks associated with purchasing cars.
We had everything in place to do this, a large whiteboard to write down details of the few extra enquiries we would get each month and all of our network of trusted hauliers and shippers we had built up over these couple of years. It was 2007 and nothing was going to stop us now.
While we were planning the new sideline shipping company another company came on our radar, Cervinis Auto Designs. Their product was essentially an Eleanor Mustang bodykit, but on a new shape Mustang.
We decided to use their kit to build the most insane looking, sounding and performing car we could manage and sell them as a branded model, the IMV800.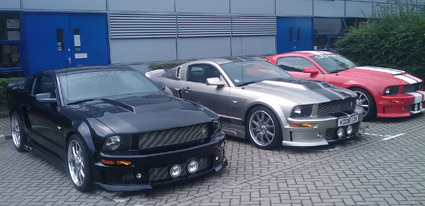 We did this by taking a standard V8 and removing the 4.6l engine, it was too small for our purposes. Instead we had fitted (by Sean Hyland Motorsport in Canada) a GT500 5.4l V8 , and a supercharger that conservatively was putting out 800bhp.
Now at this point we had driven some pretty fast cars, but nothing even came close to this thing. The changes to the suspension also meant unlike a standard GT500 it could actually get some traction. We sold a few of these and decided to buy a container load of Cervinis stock to sell quicker to the UK market.
A few weeks later, a 20ft container of bumpers, hoods and spoilers were with us and we quickly set up an online shop to sell them.
Now back to our new shipping sideline. We would love to say we had a premonition of the looming 2008 global financial meltdown but in reality it was a business concept that interested us. We decided that not only should we provide an all inclusive package, but we should also be able to give people a full quote and breakdown of everything instantly on our website.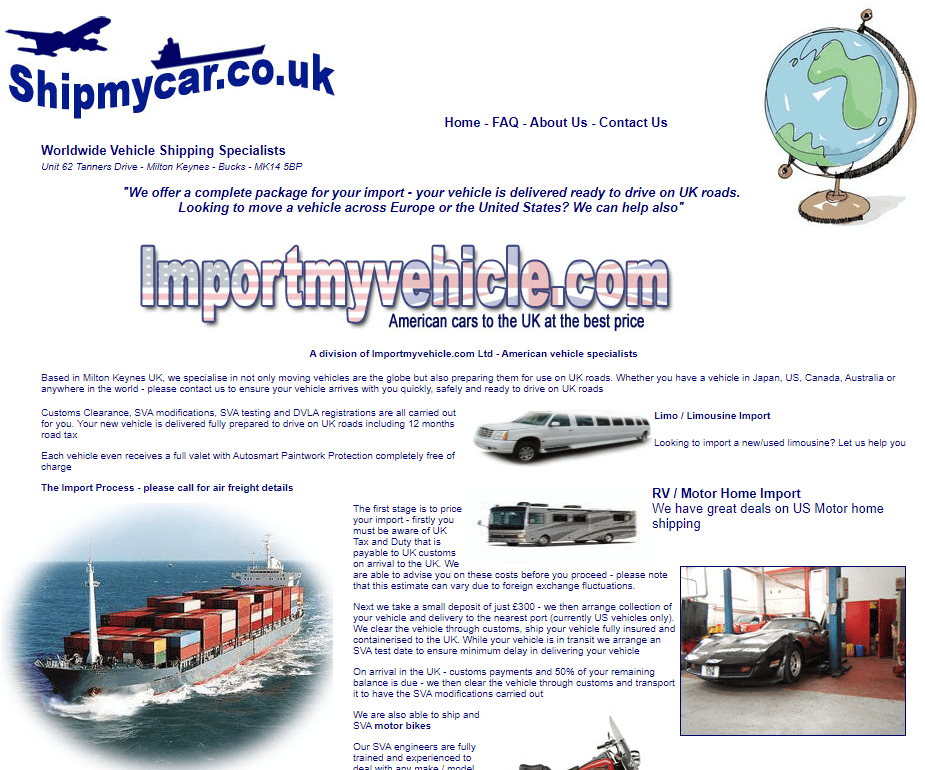 We got coding, we had a bit of PHP knowledge and spent many long days & nights drinking coffee and creating a database and front end quote system. As part of our MyCar domain collection we managed to secure www.shipmycar.co.uk – the beautiful design above (sorry if you have just eaten) went live and we got working on SEO.
Well it didn't take long before the lovely algorithms at Google decided to put us top of the tree for 'car shipping' and things got a little bit busy. We went from a few calls a day to non-stop calls, a few quotes a day with the ability to track them all on a whiteboard to 50 a day. We needed staff and automation.
Automation was easy for us, we had picked up enough coding skills to link the quote system to a database, a new backend built up meant a lot of the process from collection of quote details, to booking transport / shipping / DVLA forms needed could all be handled automatically through our custom CRM and new Client Portal.
It started to get very busy, we were fielding calls, driving cars to tests and valeting all ourselves. We took on some staff, we even had our own named mugs and commissioned an artist to draw the below awesome sketch. Life was good.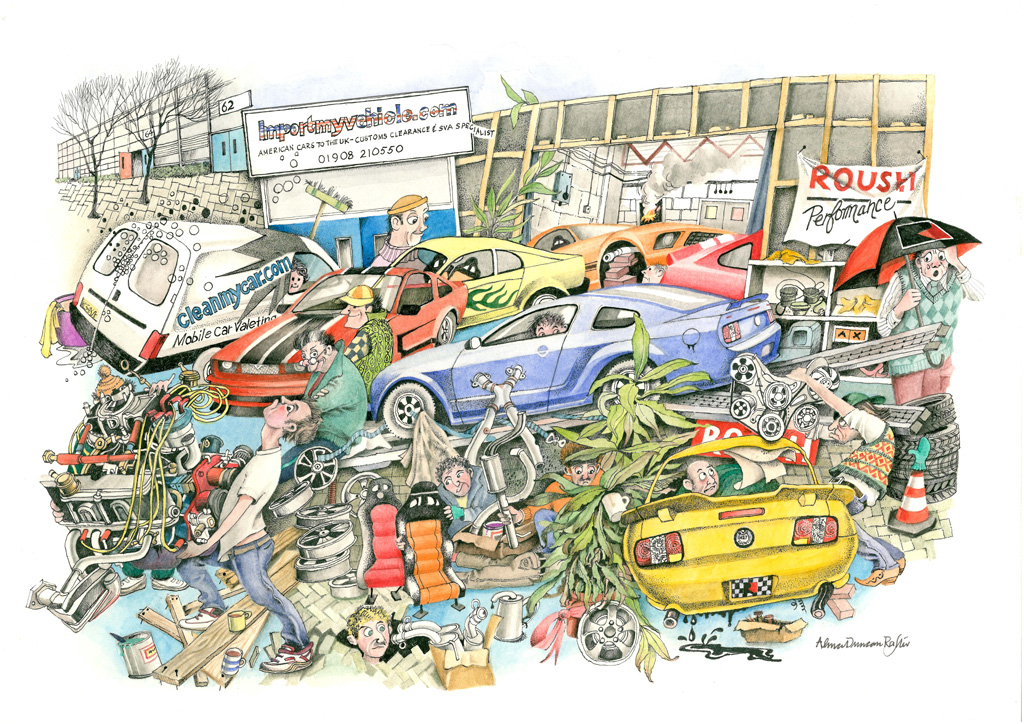 It became so busy we couldn't help thinking 'this time next year Rodney' – but as all thirty-something UK based entrepreneurs know, when you think things are about to sky rocket, a global disaster is always waiting in the wings…
Keep reading, Chapter Four – Global Recession and Selling Cars