Containers
"While the UK is on lockdown from Coronavirus measures, I thought I would take a look back through the history of our company. I hope all of our clients, staff, friends and families are well and stay safe during these difficult times"

Nick Roach – Company Director
Being based in Milton Keynes and almost the furthest point from any sea port makes handling sea containers seem like a strange idea, however quite often the cost of moving a container from a port of arrival to here is not much more than say Tilbury -> Felixstowe.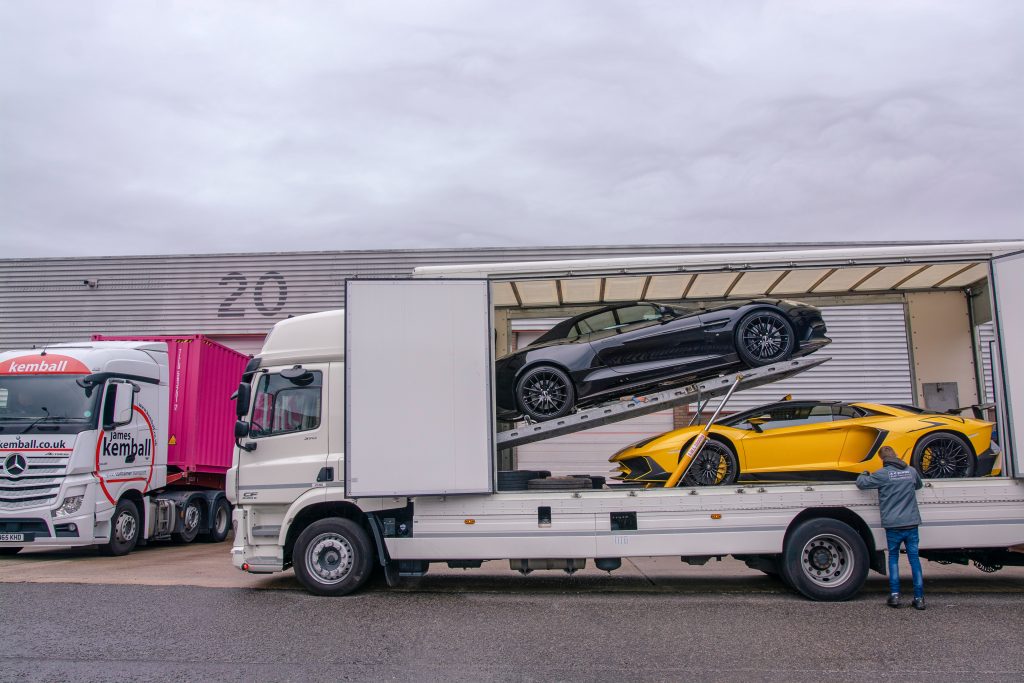 Milton Keynes is in a perfect location to get to easily, we have the M1 motorway, Luton airport and Milton Keynes train station all close by.
Combining those two factors makes our central England location actually quite an interesting idea.
It certainly makes for an easier journey to collect your car than some of the sea ports, plus on arrival here you get to be put through advanced roundabout training with over 130 roundabouts to practise on.
Unloading a container with some cars in is easy right? Well, if you are thinking that, let me give you some information on how cars are loaded into containers and why handling them safely takes investment and training.
First let us look into the different methods of shipping a car by sea that we use:
Roll on Roll off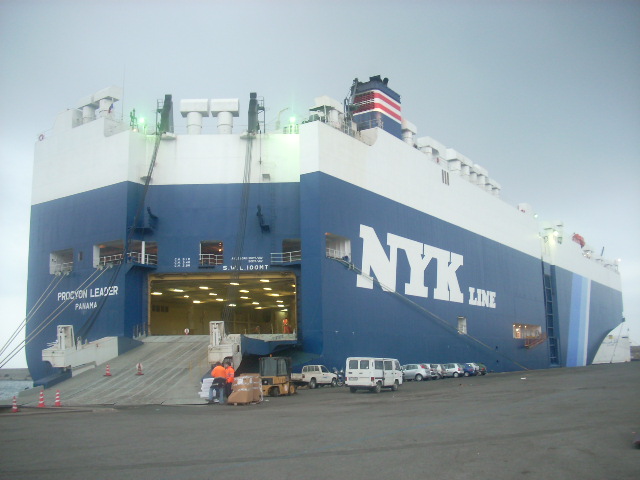 This often seems the cheapest method, it involves driving 6,000+ vehicles onto a giant ferry. Main drawback for us unloading these in Milton Keynes is that it would be impossible due to our distance from ports. Sadly, the canal network was not built to transport a 740 ft vessel, otherwise we would be able to unload them too!
20ft Container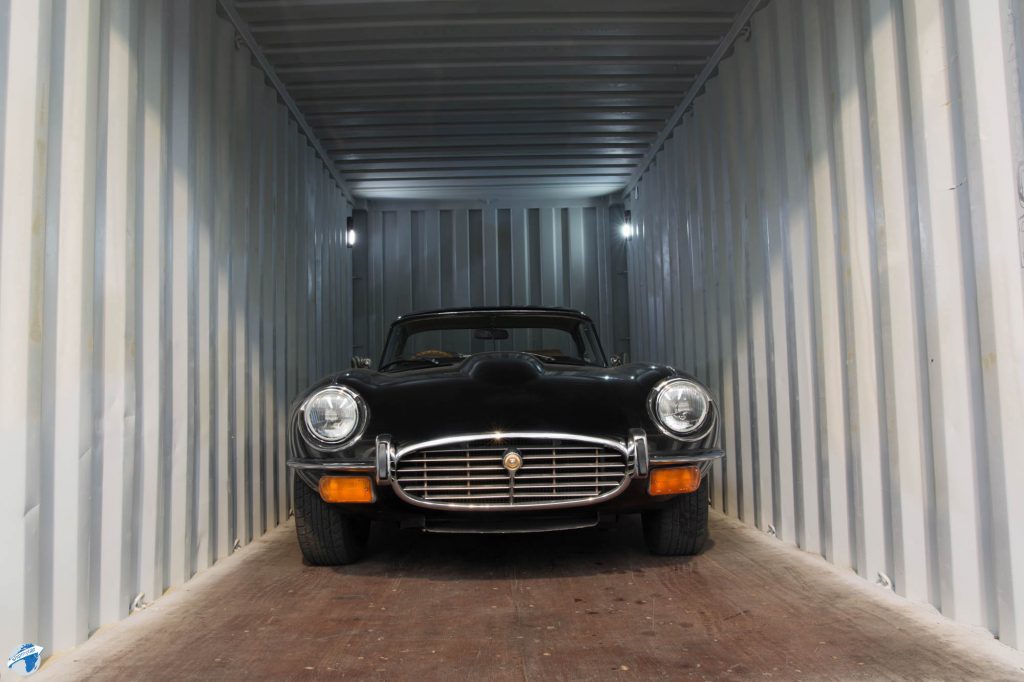 This is how I used to imagine cars being shipped in containers before we started doing this. One car, lashed down and chocked in a metal box. If you have the money, it is the safest and quickest sea freight option
40ft Container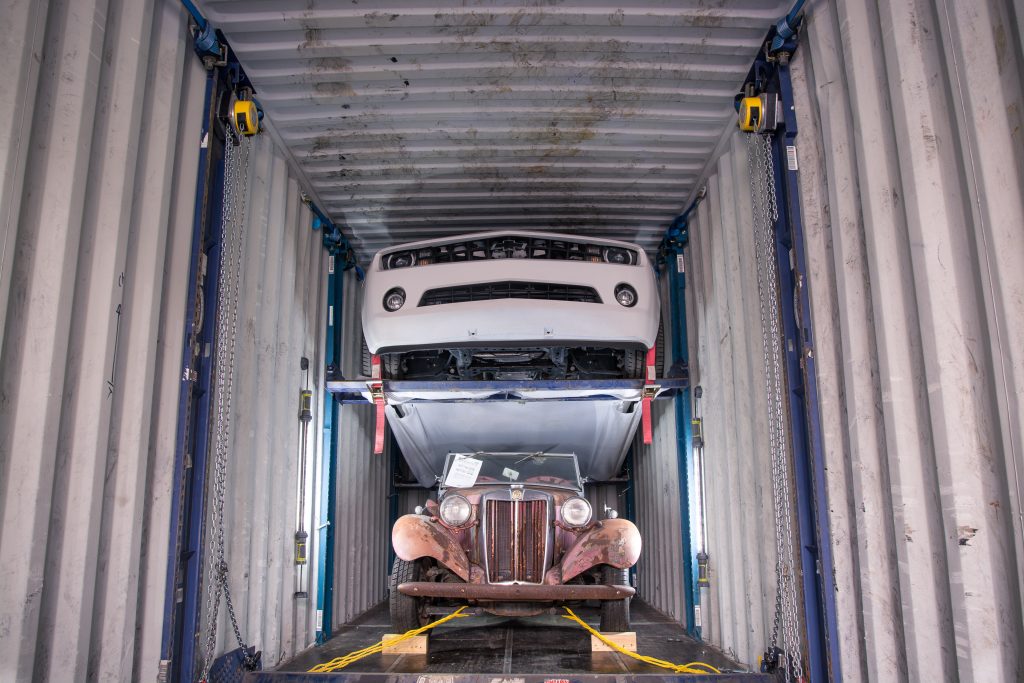 This is the method you may not have realised existed, 4-5 cars in one container, loaded on racking to fit them all in. Traditionally this is done with wooden racking but more recently this is replaced with metal racking such as Trans-Rak's R-Rak system.
We had experience of seeing wooden racking systems being used and knew it was a huge operation to unload the cars and dismantle the wooden racks. You need forklifts, power tools, cutters, ramping and disposal solutions in place to move the discarded wood. We went shopping for all of the above.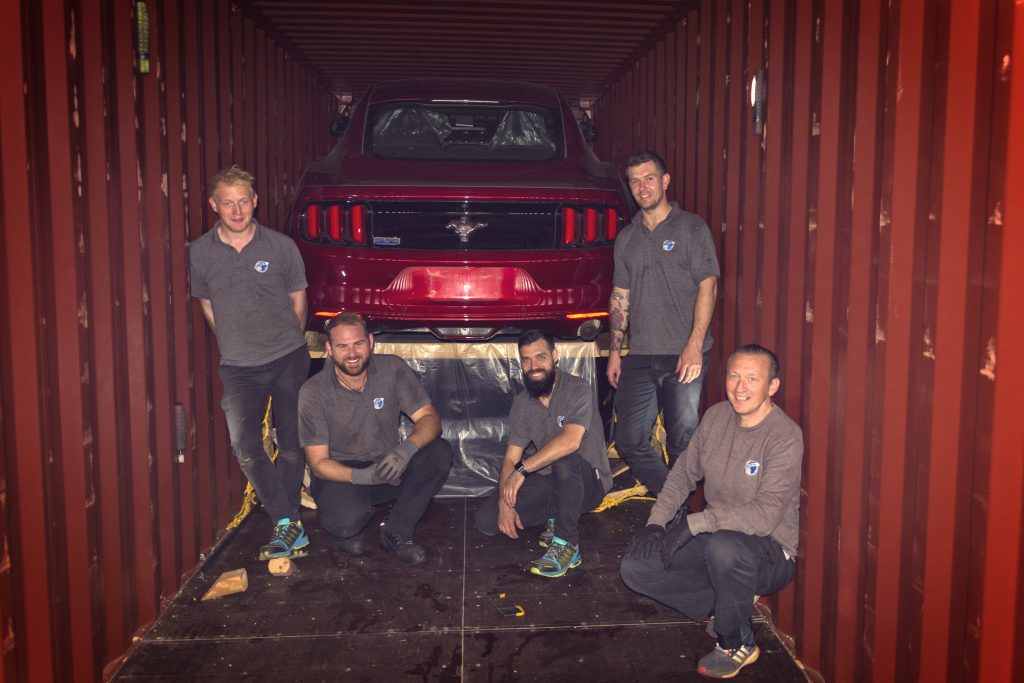 Here was our first in-house unloaded container, it was a proud moment.
Most wooden racking systems are OK, they follow a standardised approach and therefore you can get into a routine of building an off ramp, lowering the cars and dismantling. Some however, are not so easy and take a lot of effort to plan and offload the cars.
We had followed Trans-Rak long before we started unloading containers in-house. We love innovation, and wooden frameworks to unload cars seemed wasteful and time consuming. With metal racking systems you hoist the cars down, and drive them out.
Using metal racking systems, the safety aspect and return of racks to the owner requires some planning and training. Luckily the people at Trans-Rak are some of the most helpful in the industry and so we set up a session of on-site training with them, they even came to assist with our first container.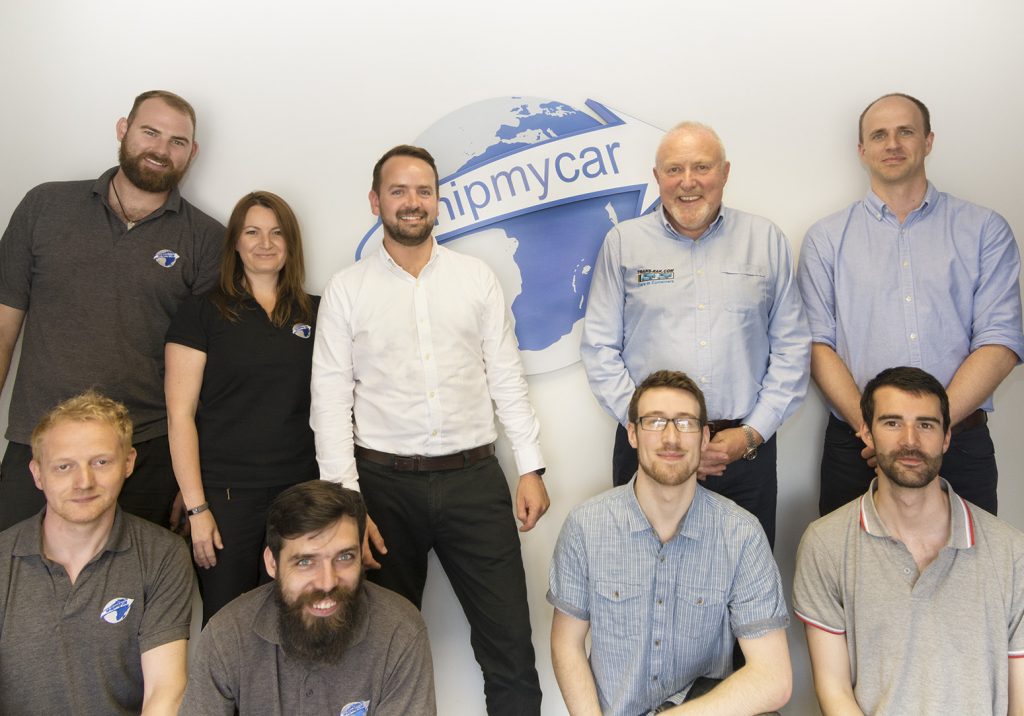 Using R-Raks is a dream, and being able to offer the unloading of R-Raks opened us up to other shippers looking to have a UK depot to handle their containers.
Things got busy again so our second warehouse was born. Just two doors from Unit 20, it could store vehicles unloaded and prior to collection by the clients
As always, it didn't take long until this was full as well….
So now we could load and unload cars all in-house! Things just kept getting busier and busier, and it felt like we needed a bit of a re-vamp.
The clipart logo was a bit busy and the website was getting a bit tired. ShipMyCar v3.0 was launched, new signage, new logo, new uniforms and a full redesign of our instant quote system.

Now we really were flying, with over ten years experience in the world of car shipping we were now the best in the UK. If it had wheels, we could ship it, anywhere, anytime, and get it registered here in the UK.
Then in 2016, seventeen million four hundred thousand people voted to leave the EU.
Now this is not the place to get political and argue the wrongs and rights of this decision, but for us it made the future much more difficult to predict.
We had had some tricky global situations to get through during the last ten years yet had seen year-on-year growth, will this continue?
Find out in the next chapter, Chapter 11 – Brexit and 2020