The UK is a great place to source a car, we are a nation of petrolheads and with an annual safety inspection (MOT) being a legal requirement, it means there are some very well maintained examples to be had.
There are also a lot of great places to find the perfect car, with lots of car dealers, online marketplaces and specialists .
Here at ShipMyCar we offer a shared container service to the USA using R-Rak loading systems. This is a very safe and very cost effective method of getting a vehicle shipped by ocean freight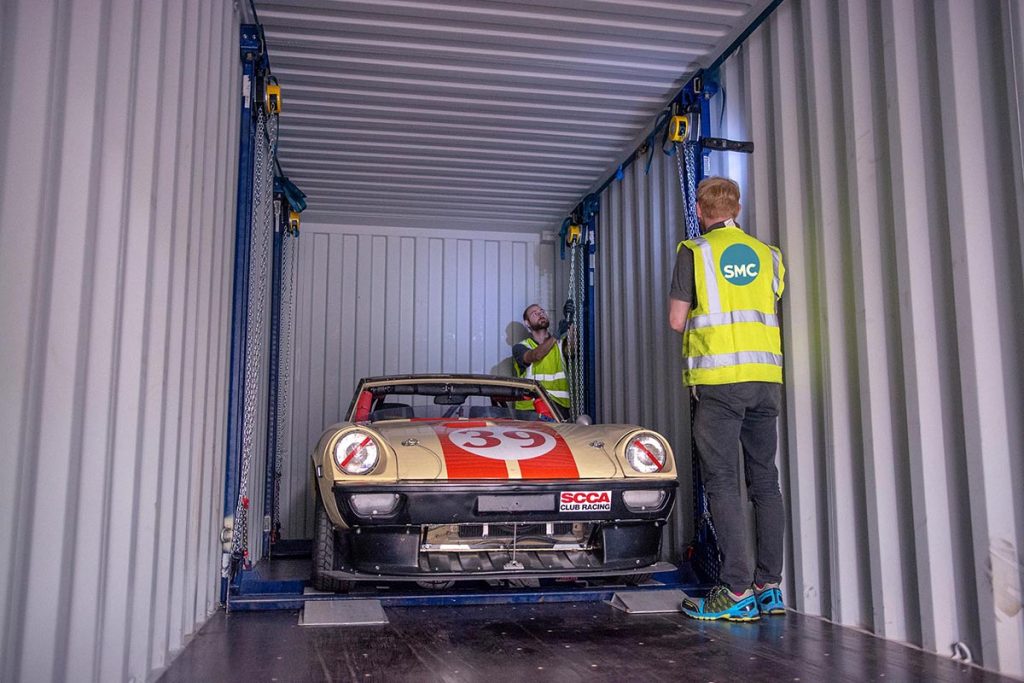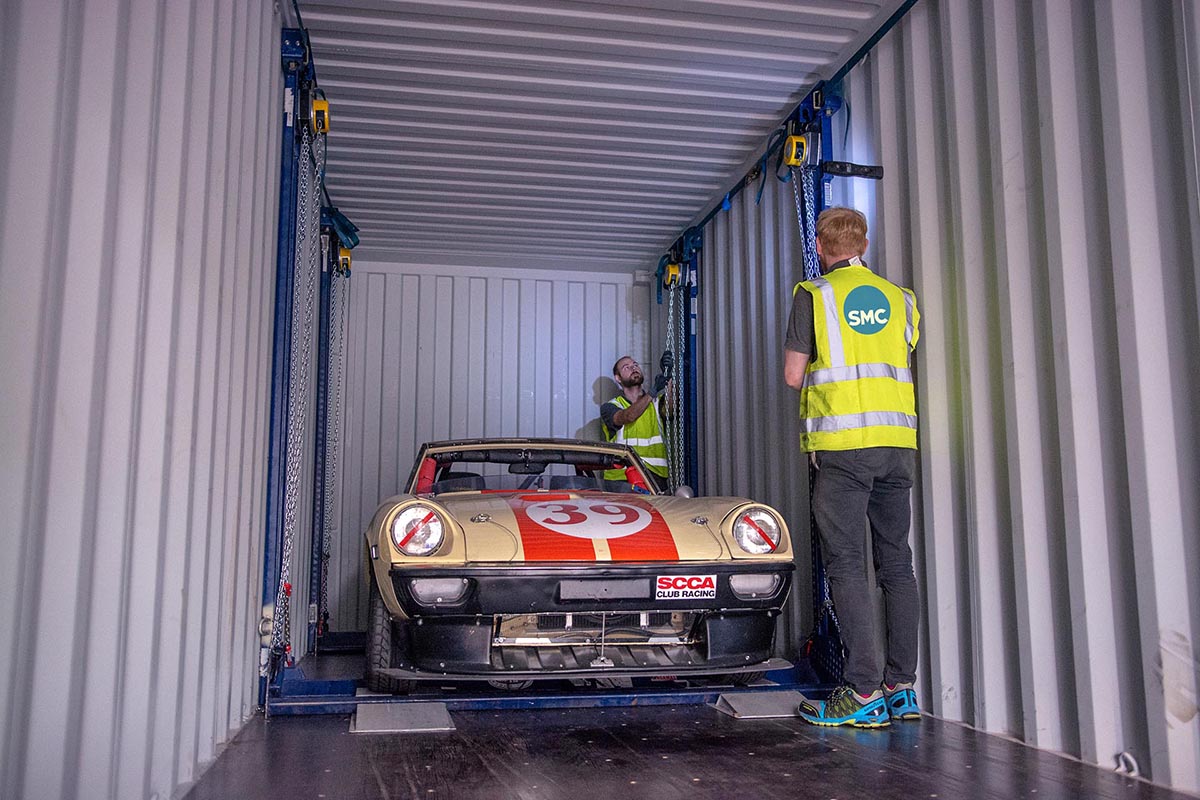 Some of the most popular vehicles we export from the UK to the USA are Minis, Land Rovers, Bentleys and Triumphs but the UK is also a great place to pick up all kinds of different European marques.
What can I ship?
This is the first and most important question to answer. The USA is very strict on what can be shipped there, due to their EPA regulations. Therefore, you should only be looking at vehicles over 21 years of age.
This is not a rule you can really get around, and can end up a very costly exercise to try and ship anything there without first getting prior approval.
How it Works
Let us go through the process of finding a car, pricing up the shipment and handling the shipment to the USA.
For this example we will use one of our favourite places to find some great cars: www.collectingcars.com and specifically a lovely 1959 Triumph TR3A that was recently sold for £23,500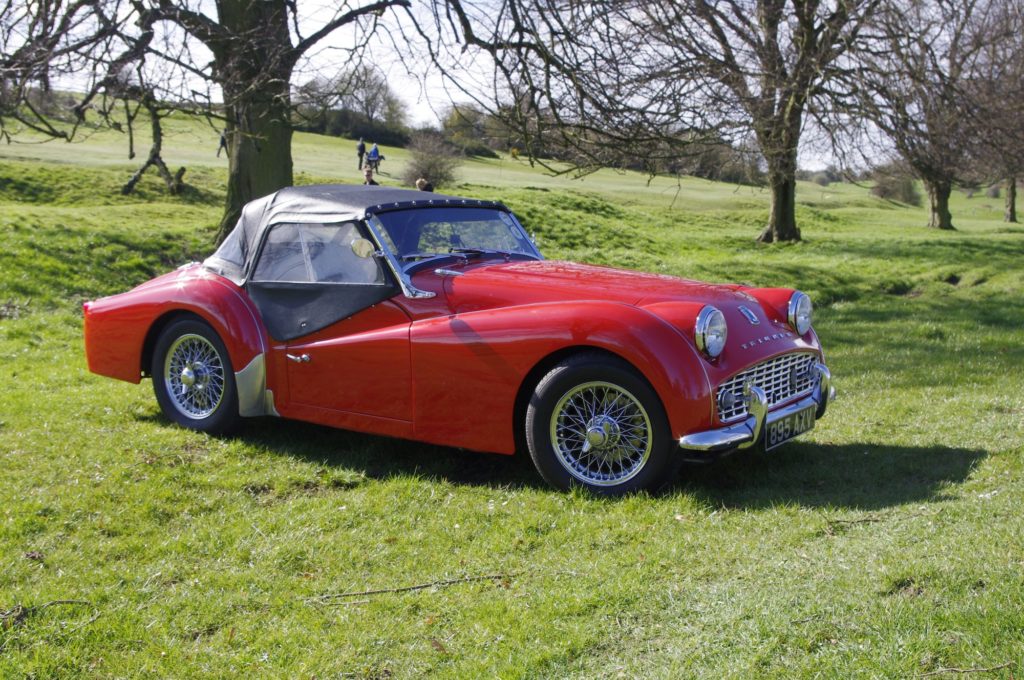 Collecting Cars is an online auction platform with a very high standard of imagery and description of every vehicle listed. Giving you the buyer a lot more confidence in your purchase.
Obviously, with this vehicle being built in 1959 it is over twenty-one years of age, so no issues there with getting it into the USA.
Paying for your Purchase
The great thing with buying from Collecting Cars is that you know your costs upfront, you place your bid and if successful you are charged a fixed premium by their platform. You can then make payment to the seller which is another area we can save you some money…
We can have our foreign exchange broker set you up on their platform to enable you to make a same day money transfer to the seller's account in the UK at much better rates than if you used a bank (generally around 4% which on this Triumph would save over $1000 alone)
Shipping your Purchase
Shipping a car can be a very stressful process, with so many different costs and processes it is easy to get completely lost and end up spending a lot more than you expected.
Luckily for you, we have developed an instant quote system for shipping a car from the UK to the USA. Our online calculator will take the address of the vehicle you are interested in and immediately price up:
Transport to our loading depot
Loading and export customs fees
Marine insurance
Ocean freight costs
US unloading and handling fees
Estimate of US customs bonds
The system is free to use and works 24/7, so no matter which way your auction is heading you can be sure of how much it will be costing to ship it to you.
Step One – Let us know the make and model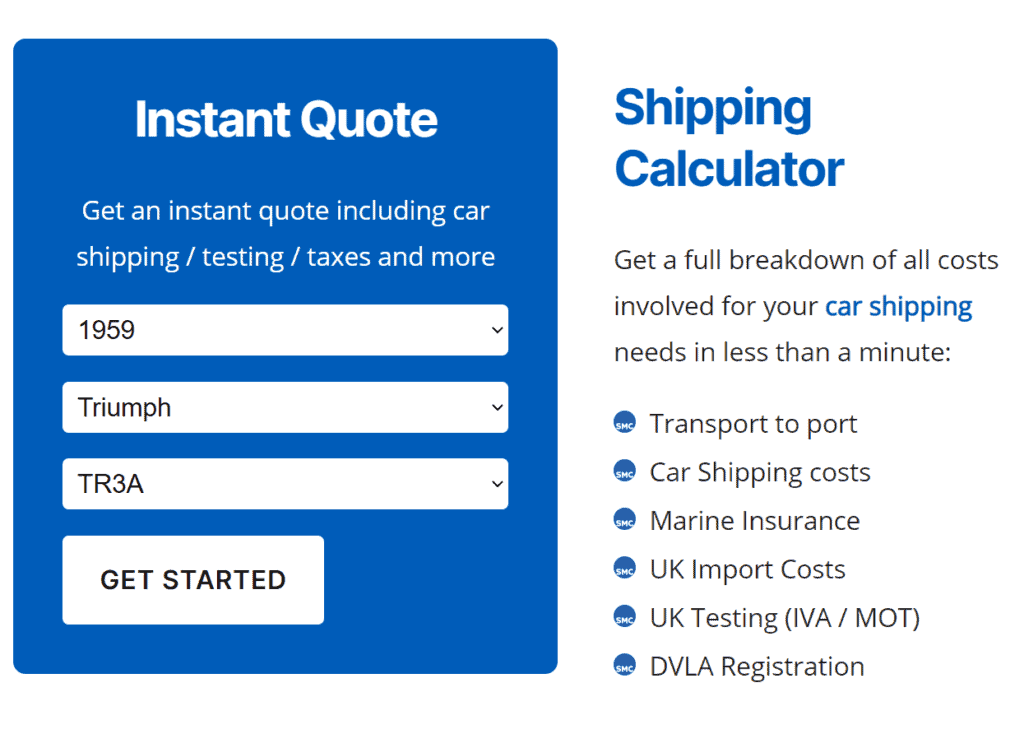 Step Two – Let us know where the car is located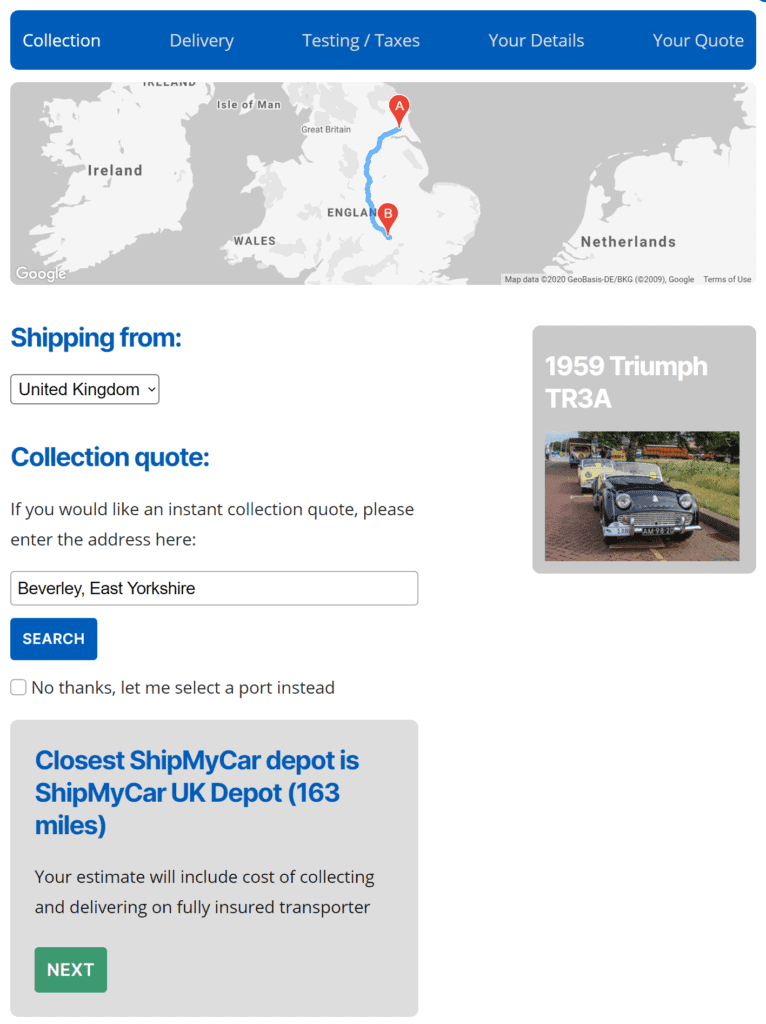 As you can see, our system calculates the cost to transport your purchase to our loading depot here in Milton Keynes. This is by fully insured car transporter.
Step Three – Let us know which US port you want to ship to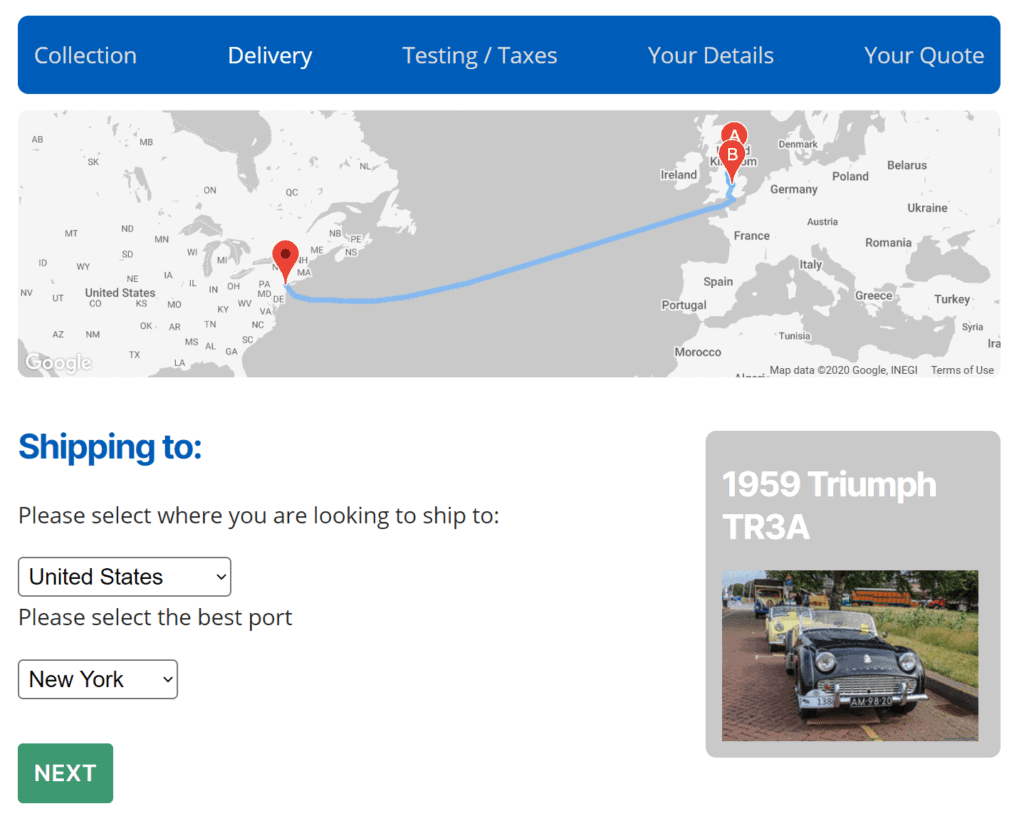 Step Four – Let us know some final details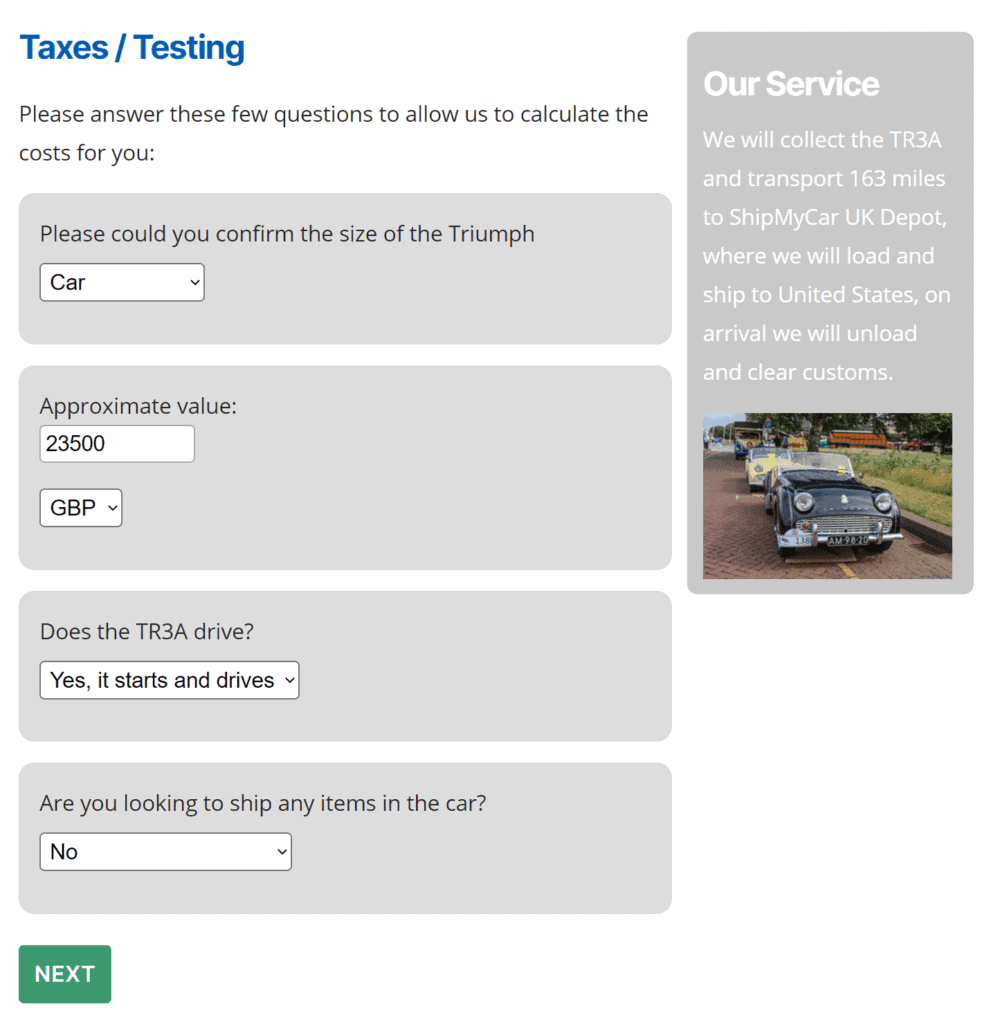 That is all we need in order to give you a full breakdown of all the costs involved, we then email you a nice PDF of this quote with an estimate of your import duty payment (for most cars this is 2.5%)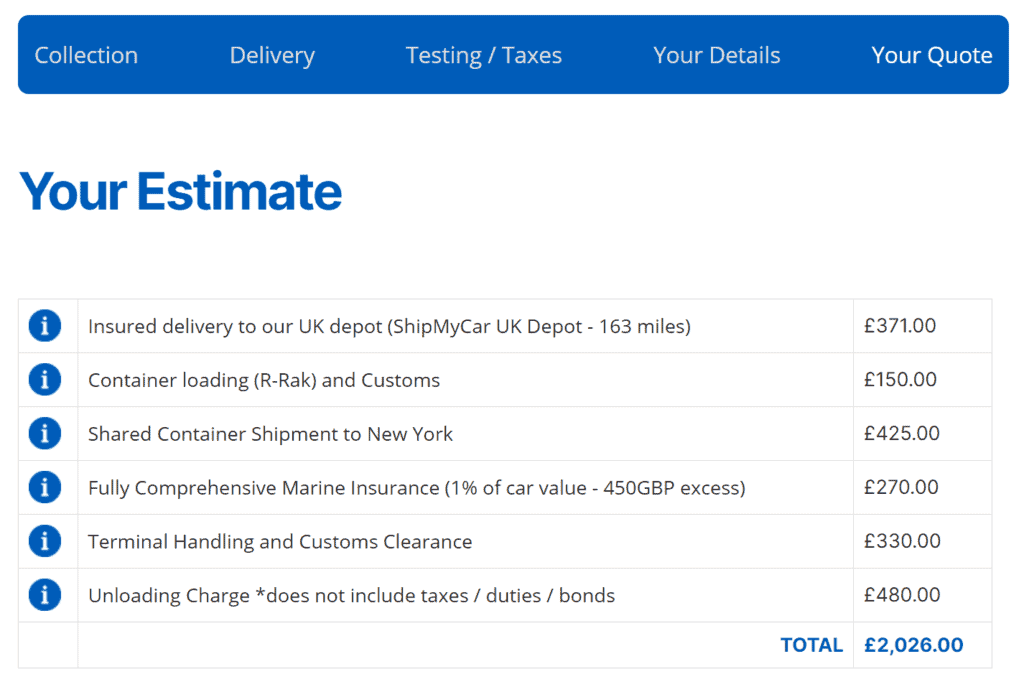 Shipping Methods
Cars are generally shipped by either RoRo (roll-on-roll-off, a bit like a giant car ferry, just without the people / buffet), 20ft container (one car, one container) or shared 40ft (2-5 cars in one container)
For shipments to the USA we ship by either 20ft / 40ft containers, we can also quote for air freight but here we will just be discussing ocean freight options.
20ft containers are easy to explain, your vehicle will be loaded, strapped & chocked to the deck. Moisture protection is added both inside the vehicle and using modern moisture tubes hung to the container walls which will remove all the water content from the air within the container.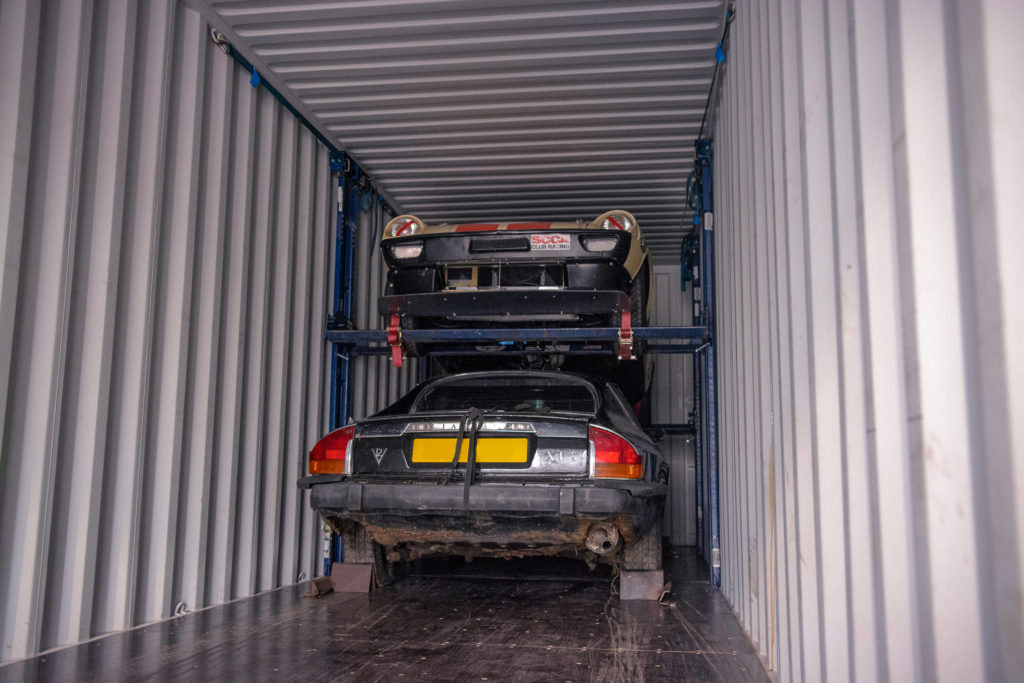 20ft containers are great but are not the cheapest method, and this is where the shared 40ft option comes in. We use metallic racking systems called R-Raks to load vehicles into the container. The vehicle is safely fixed to the rack and lifted above another car, meaning multiple cars can share one container and share all the costs.
We will complete an EPA declaration and then get your shipment underway. Exciting times.
The journey
Once you make a booking with us, we set you up on our Client Portal. Here you will be given a checklist of documents we need that you can upload easily so we have everything we need for UK export and arrival into the USA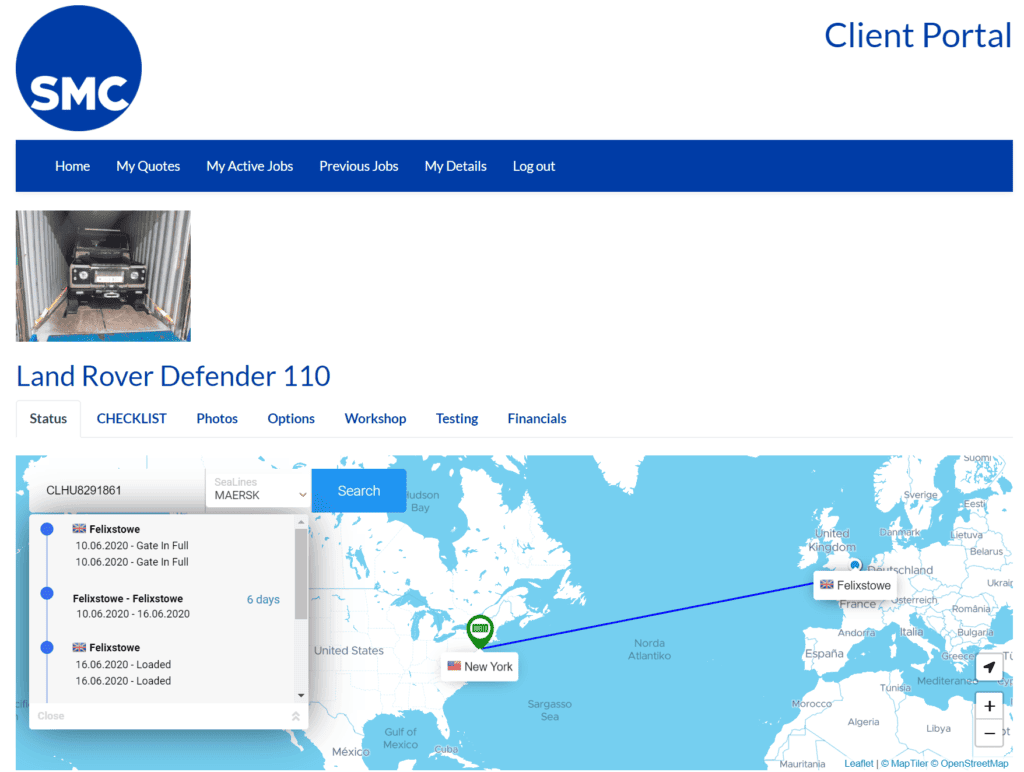 You can even track your shipment in real time
Arrival to the USA
On arrival to the USA we will put you in touch with our agent who will be able to assist with customs clearance and duty payment.
Once clear, we can arrange onward delivery directly to your door, a quick visit to the DMV and you will be US registered in no time!
What did it cost?
OK, the moment you have all been waiting for… Let's go through all the costs:
| | |
| --- | --- |
| Purchase Price | 23500 |
| ShipMyCar Costs | 2026 |
| US Import Bond 2.5% | 587.50 |
So in total you would be looking at roughly £26,000 or $32,000 in today's money (2/7/2020)
The best thing is, you could find out all of these costs involved in advance using our instant car shipping calculator.
If you are looking at buying a car in the UK, or anywhere in the world, and are looking at having it shipped, be sure to try our instant quote system at www.shipmycar.co.uk