As many of our clients are living outside of the UK we decided to implement a Live Chat facility on our website to enable you to speak with one of our staff, usually a company director, directly to answer any question you may have in relation to car shipping or any other aspect of importing / exporting a car you plan to ship
On every page of ShipMyCar.co.uk you can now see a small 'Chat Now' button in the bottom right of the screen – seeing this means one of our knowledgeable car shipping expert staff are on-line and ready to answer any questions you may have in regards to your car shipping requirements. The system is completely free to use and very straightforward – our staff are usually on hand to answer any car shipping questions, and if we are not you will have the option to leave us a message which we will answer quickly for you.
Car Shipping Quote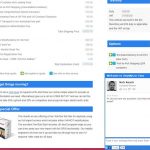 On certain pages, such as when you receive your instant car shipping quote – one of our staff may automatically be prompted to ask if you have any questions in relation to the quote you have received.
Shipping a car can be a complex process, our Live Chat facility means you can talk to our car shipping experts completely free of charge