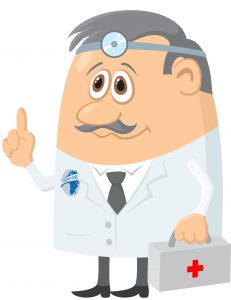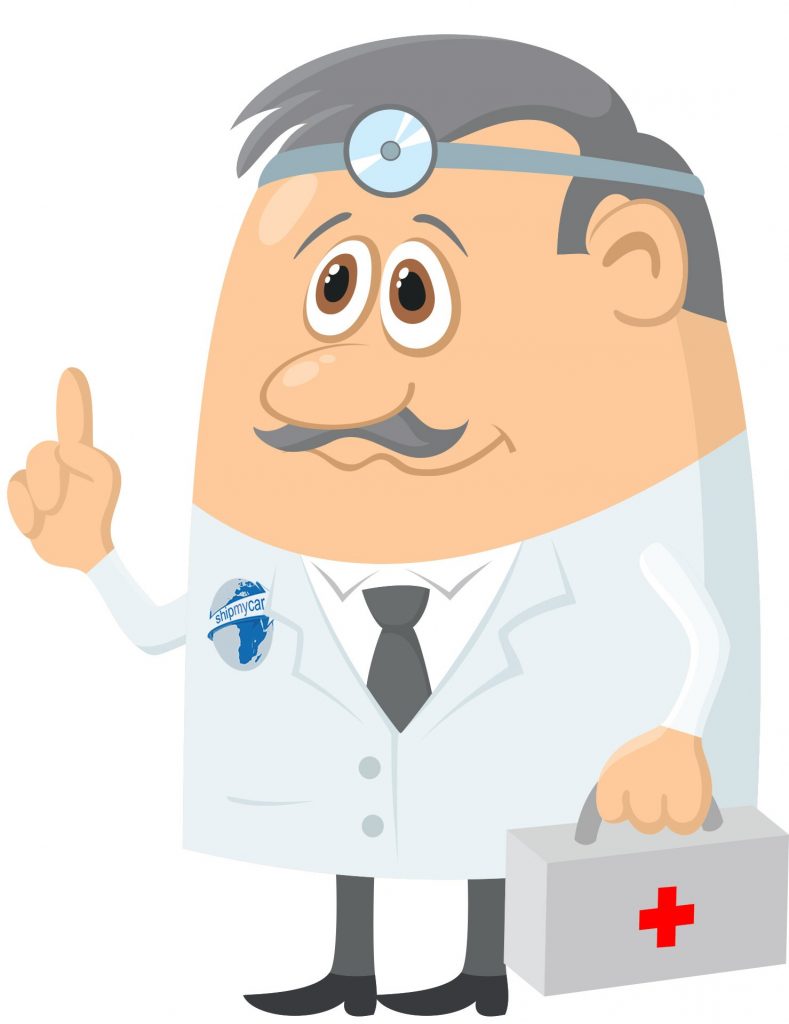 The ShipMyCar Doctor often has to deal with patients suffering from Didn't-use-shipmycar-itis. We are always willing to help treat such cases but they can be time consuming and/or expensive to mend. The causes of this terrible condition are usually the same with the ShipMyCar doctor hearing: "but ShipMyCar seemed too expensive so I went with somebody else".
We want to help show how ShipMyCar is usually the most cost effective company for shipping your car into the UK
Symptoms of Didn't-use-shipmycar-itis Include
Damage to car on collection in country of export and shipper not willing to assist
No UK car shipping agent own a fleet of lorries in the USA that will personally collect your car from anywhere in the USA for you and deliver to port. The USA is vast and this simply is not feasible. Many if not all UK agents use a central booking system to co-ordinate US collection, however some shippers pick the cheapest haulage firm and ignore the fact the are not properly insured to move your vehicle. If damage does occur, the UK shipping agent states they were only acting as an agent to book your transport, and you need to sort this out direct with the USA trucking firm.
ShipMyCar says: we only use A* rated haulage firms to move your vehicle and ensure the company used has sufficient insurance in place. Should something go wrong, we make sure everything is put right.
Marine Insurance with high excess imposed on any claims
Many other UK shipping agents have very high insurance policy excess rates, some even a percentage of your vehicle value. Damage occurs and then you are stuck with a large bill for something that was not your fault.
ShipMyCar says: If using us for our full import service your car is fully insured with fixed upfront excess. We take a full condition report on collection, and a full condition report at our UK warehouse. Any damage whatsoever is repaired using the best bodyshops in the business.
Car cleared through customs incorrectly
Some shippers and freight forwarders who do not specialise in car shipping are not fully aware of all the special rules and exemptions for clearing a car through customs, we hear regularly of people using household moving companies or general freight forwarders and missing out on vehicle import reduced rates of import taxes, sometimes costing them thousands of pounds unnecessarily.
 ShipMyCar says: We are experts at UK customs clearance when it comes to vehicles. We know all about reduced rates of VAT for vehicles over thirty years of age (BTI Scheme), returning EC built vehicles only having to pay £50 duty and much more. Don't take the risk, use us to ship your car
Didn't realise can not drive the car straight from the port
Another shipping company gives you a great quote but does not make it clear your vehicle will need to be tested and registered before it can be driven on UK roads. This may mean an MOT test, IVA test or both, and most likely will involve significant rewiring of your vehicles lighting system by a qualified specialist. The cost? A lot in some cases.
ShipMyCar says: Try using our instant car shipping quote calculator – it prices up everything needed to drive your car in the UK. Our database has most makes/models of vehicles and the costs involved. We only use the best electrical engineers in the industry and have pioneered LED conversions and our Invisible IVA techniques to keep your car looking standard. We also collect cars from port on low loaders for deliver to our/your workshop
Car's electrical systems badly damaged by poor UK conversion
This is something we see a lot of. People using cheaper conversions for the lighting systems causing expensive damage to sensitive ECU's and even creating fire hazards by taping up bulbs and hiding them in the car to create the appropriate resistances, rather than doing things properly.
ShipMyCar says: You only have to take a look at some of our work to know we are the best around, have a look at our Mustang IVA conversions for example – the car looks original with no horrible bolt-on lights and original light clusters. All safely controlled using our custom light control modules.
The DVLA took eight weeks to register the car
Yes, since moving operations to Swansea and closing offices across the country the DVLA have been a lot slower than usual, they will also reject an application if it is not 100% completed correctly or you are missing required documentation or forms. The application has to start again and including postage time this can add up to weeks of delays
ShipMyCar says: We are experts at V55 import applications. We do not get these forms wrong and always ensure they are 100% complete before processing the application. We also have an account manager at the DVLA who ensures a timely turnaround.
So there you have it. Not using ShipMyCar for your vehicle shipping requirements may look like you are going to save some money, but this is purely because our car shipping quotes are the most comprehensive in the industry and we only employ the best sub-contractors and staff to ship your car.
For an instant quote please use the below form, visit www.shipmycar.co.uk or call us on 01908 887 917
Instant Quote
Get an instant quote including car shipping / testing / taxes and more
Shipping Calculator
Get a full breakdown of all costs involved for your car shipping needs in less than a minute:
Transport to port
Car Shipping costs
Marine Insurance
UK Import Costs
UK Testing (IVA / MOT)
DVLA Registration