So as 2013 draws to a close we have started analysing the data from the last year. Ship My Car continued to expand through 2013, investing in double our warehousing capacity, increasing our service list for full service imports to include in-house welding and fabrication, tyre advice & replacement for imports, undersealing and further improvements to our LED programme.
Our average number of car import/export quotations processed has risen to almost 2,500 car shipping quotes per month via our instant car shipping calculator and continues to rise month by month as we develop our on-line marketing strategies.
Going through the vast amount of data generated by our instant quote system brings up some interesting facts :
1) The 2013 Ford Mustang is the most popular vehicle to consider shipping
2) Out of all classic cars considered for shipping, the 1966 Ford Mustang tops the chart
3) The Delorean DMC 12 was in the top 10 most requested vehicles to ship – Back to The Future popular this year?!
4) A large increase in European cars being shipped into the UK from abroad – mostly the Porsche 911, classic Mercedes SL and classic MG models
5) The most popular route was New York, USA to Thamesport
This year the shipping lines we use moved destination UK port to Felixstowe, we therefore have all of our container service from USA into Felixstowe, we have done our best to ensure unloading, and UK road transport to our workshop remains stable.
Some of our most popular posts on Facebook: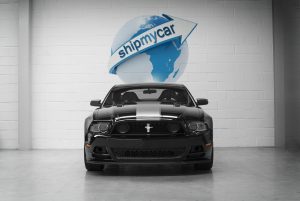 Our improvements to our rear light cluster modifications mean that for a majority of imports we can now offer a true 'Invisible IVA' conversion with amber light flashing clearly through red light clusters. Poor IVA conversion can badly affect your vehicle and Ship My Car take pride in all vehicles we have shipped and subsequently converted to UK spec
We also had a video produced to showcase our full import services, take a look!:
May we take this opportunity to thank everybody for their continued support, a Merry Christmas and a very Happy New Year