If you are simply looking for the cost of shipping a car to the UK from the USA, try our instant quote system here which works for any make / model and from any zipcode / US address
Instant Quote
Get an instant quote including car shipping / testing / taxes and more
Shipping Calculator
Get a full breakdown of all costs involved for your car shipping needs in less than a minute:
Transport to port
Car Shipping costs
Marine Insurance
UK Import Costs
UK Testing (IVA / MOT)
DVLA Registration
In this article we will price up a car from the USA to purchase, ship to the UK and then register ready to drive. We will use an example of a 1965 Mustang that is currently for sale at Beverley Hills Car Club (www.beverlyhillscarclub.com) – we have assisted many clients over the years from BHCC and have always been exactly as described and the guys there are a pleasure to do business with.
There are of course other places to source your classic car, for example www.ebay.com (click USA site when asked) and www.classiccars.com
The vehicle we are using in this example is listed at $16,750 which at today's rather poor exchange rate of $1.22/£ is coming in at £13,730 – so first let's discuss how you can save some money on transferring the payment to the US seller.
Car Shipping Quote
This is where we come in, we have spent many years developing our Instant Car Shipping Calculator – it will price up all US transport, customs, shipping, marine insurance, unloading, UK taxes and duty, testing and registration and works for all makes/models of vehicles from classics to brand new vehicles.
Try it out here: Car Shipping Quote
Paying for the car
Before paying for the car we always recommend doing some basic checks to minimise the likelihood of fraud, buying from a reputable and recommended dealer such as Beverley Hills Car Club is strongly recommended but make sure you keep yourself safe by taking into account the following: Avoid Car Shipping Fraud
The main aim of transferring funds is to get the best possible exchange rate as a small fluctuation in rates can make a big difference in how much you have to pay, the banks will give you one rate but using a broker can save a lot of money and even make the transfer to the USA quicker. Our sister company SMCFX can manage the transfer of funds to the seller at the best possible rates, far better than a bank (save on average £200 on transferring $10,000 for example) – sign up quickly and easily and use our online portal here: www.smcfx.co.uk
Instructing us to proceed
We have developed a fully online Client Portal area that can be accessed here once you have received a quotation from us: ShipMyCar Client Portal
This is a secure area where you can accept the quotation from us and complete our short application form online. We take payment upfront and the remainder of any additional costs / upgrades on completion.
What next?
Once you have made your booking with us, our experienced team get straight to work on securing the collection from the seller and making the booking at the port ready to receive your vehicle.
Your Client Portal will be immediately updated with a checklist where you can see all the documents that we require and a handy upload facility to provide the required documents directly to us.
Your Client Portal is the main point of all updates. Anything that happens along the way we add to your Client Portal. You can see photos of the car, online container tracking and more as well as authorising any works later along the process which we will discuss shortly.
The upload facility allows you to review all required documents and upload them directly from a computer or even directly from a smartphone.
Tracking your Car
Many container providers allow us to track the container in real-time. If this is activated for your container then you will be able to watch it travelling to the UK in real-time through the Client Portal. If not we will provide tracking to follow the vessel itself on a third-party website.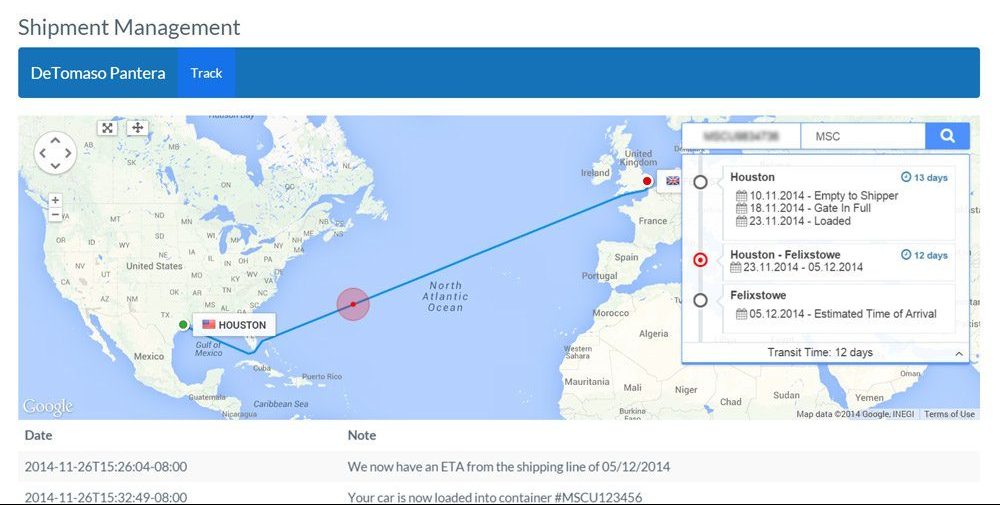 UK Arrival
On arrival to the UK we will provide you with the exact amounts that customs will require (if applicable) for customs clearance. As you would have already had an estimate of these on your original quote they should not come as much of a shock and for our example 1965 Mustang they will be 5% of vehicle value.
You will have the amounts required emailed to you, and also made available to review in your Client Portal. We provide you with HMRC bank details and a reference number for you to simply transfer the funds to them through online banking.
In our example case it would be 5% of $16,750 converted to UK pounds sterling at HMRC's current exchange rate so around £650 in this case.
Collection / Workshop
Once customs have given the OK for collection of the container it will be moved to our warehouse in Milton Keynes for unloading and if applicable (and most popular) into our huge workshop for full UK testing and registration service.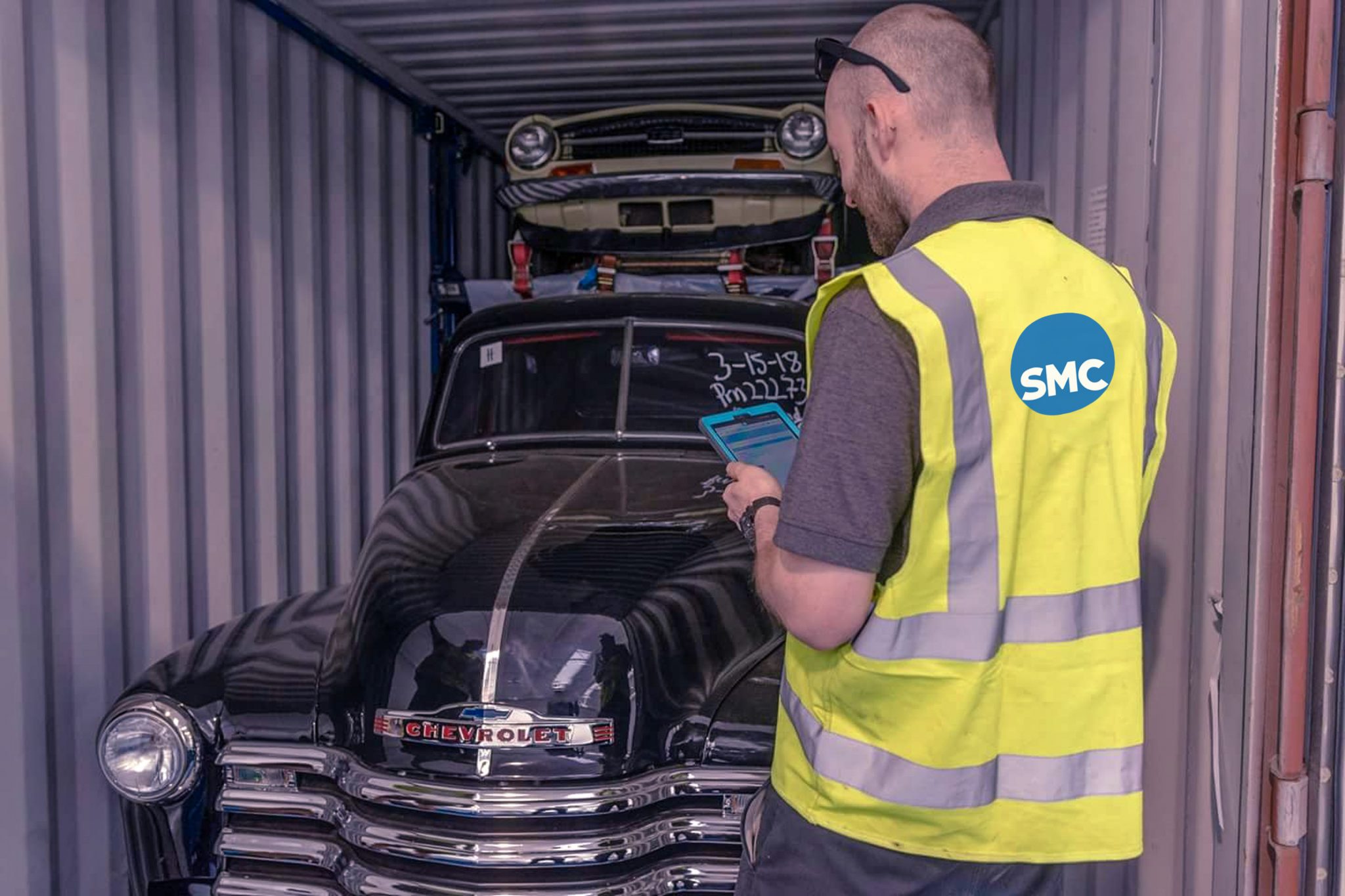 In this example we have opted for our full import package. On arrival our team will check the vehicle in and notify you if any damage has occurred and how we plan to rectify this in the very rare case that it has happened.
Our technicians then carry out the appropriate modifications to your vehicle in order to pass the relevant UK IVA / MOT test requirements. In this case, the car is a 1965 model and so it will just need new headlights with clear sidelights and then for an MOT to be carried out. All of which would have been outlined and priced in your instant quote you had originally received.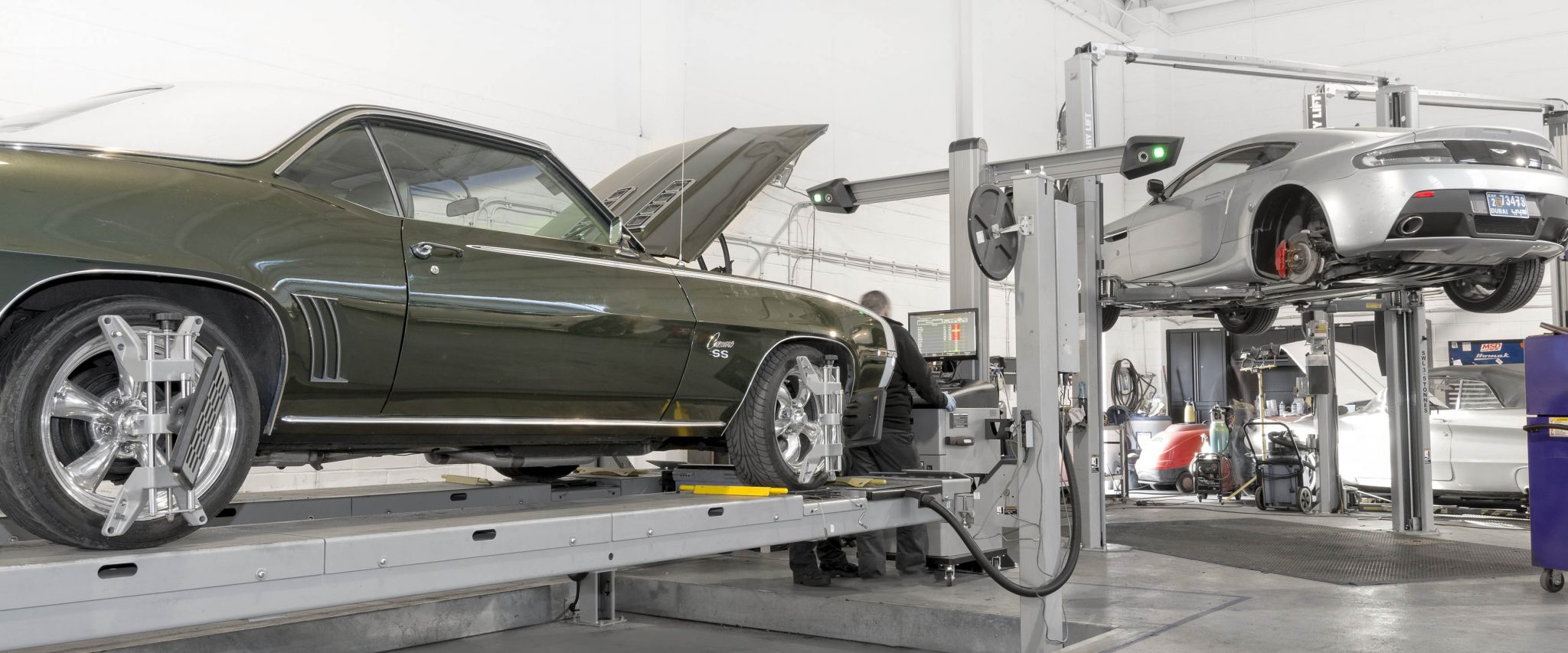 What if it fails testing?
Let's say the Mustang failed on a few items, not to worry, our team our very experienced in working on all imported vehicles from classics to modern day supercars. We will price up any repairs required, list them in your Client Portal and you can simply authorise them with a click of the mouse. This then gets our office into action to order the required parts ready to be fitted.
Our technicians will take photos of the issues which will be view-able in your Client Portal.
We can carry out all kinds of remedial work from simple MOT failures such as worn brake pads through to welding / engine rebuilds. No work is carried out without first explaining the issue to you and quoting clearly for the work required.
Further information no our workshop can be found here: Milton Keynes Workshop
DVLA Registration and Final Costings
We then register the vehicle for you, print the number plates (in this case on classic black / silver plates) and fit them to your vehicle. Any optional upgrades you requested will be carried out prior to collection such as servicing, tracker / alarm installation or valeting.
We have partnered with car insurance specialists Elevate Insurance, we can have them contact you for a quick imported car insurance quote
So how much did the whole process cost? Let's take a look:
| | |
| --- | --- |
| Cost of Vehicle | £13730.00 |
| Shipping Costs (ShipMyCar) | £1579.59 |
| UK Import VAT | £650.00 |
| UK Testing & Registration (ShipMyCar) | £970.00 |
| Total on the road price | £16929.59 |
So all in the car cost you less than £17,000 – and that is an all inclusive turn-key shipment where you did not have to lift a finger (apart from to click the mouse). That included the cost of the car, all the US transport, shipping, marine insurance, unloading, UK taxes, testing, registration – the whole lot.
Even though the UK's decision to leave the EU has hurt the value of Sterling, you can see that there are still some great cars out there and bringing them over to the UK is still a very cost effective way of owning the car of your dreams. Please try our instant quote system today at Car Shipping Quote.